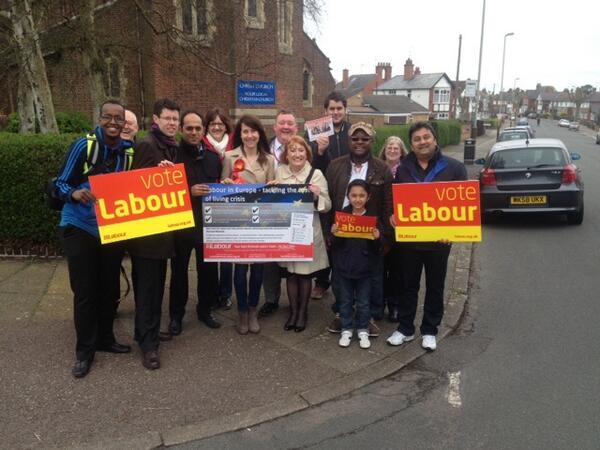 Labour's European candidates are campaigning in every community in the East Midlands for a One Nation solution to David Cameron's cost-of-living crisis.
A vote for Labour on 22nd May is a vote for:
Freezing gas and electricity bills until 2017
Building more homes - 200,000 a year by 2020
25 hours of free childcare for working parents of three and four year olds
A Compulsory Jobs Guarantee for young people unemployed for over a year
Strengthening the Minimum Wage and stopping recruitment agencies hiring just from overses
Britian needs to be on a strong footing, safeguarding jobs and growth for British workers. Businesses across the East Midlands would close with the loss of thousands of local jobs if Britain leaves the EU, a UKIp and an increasing number of Tories have demanded.
In a recent survey for YouGov, one in twenty business owners said that with the UK outside the EU they would face closure. This finding followed cautions against a reckless withdrawal from some of the UK's biggest trading partners and employers.
Japan has hinted that the UK risked losing thousands of jobs with Japanese firms if it left the EU
Car maker Nissan has said the UK membership of the EU is 'very important' and leaving would be a serious obstacle to future investment
Car giant Ford said it would reassess its presence in the UK if Britain were to leave the EU
The United States has warned that the UK would probably be excluded from a trade deal worth billions if it left the EU.
East Midlands MEP Glenis Willmott said: "With Britain in the midst of a cost-of-living crisis, Labour would not put all this at risk. Our priority is to reform Europe so that it works better for us."