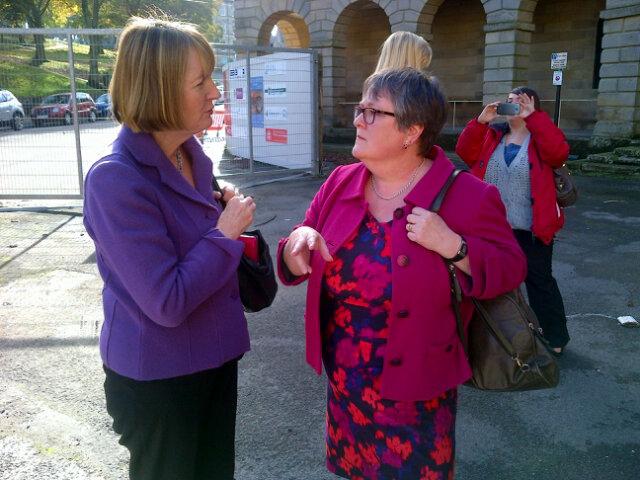 Harriet Harman joined High Peak's Labour parliamentary candidate to unveil Labour's tourism strategy.  
Ms Harman and Mrs Bisknell undertook a tour of Buxton's historic Crescent building, which is undergoing a £35 million redevelopment, before outlining her party's plans to boost the tourism industry. The Crescent is scheduled to open as a 70-room 5 star hotel in 2016.
Tourism is a major contributor to the UK economy, providing jobs for 3.1 million people and representing 9 per cent of UK GDP. It will play a key role in Labour's plans for growth and jobs across the country.  
The plan includes:
1 Create an efficient and robust visa system, enabling tourists to visit the UK when there is no reason to refuse them entry, with exit checks to ensure visas are enforced.
2 Help tourists get to Britain.  We will end the current 'dither and delay' on air transport. The next Labour Government will take a swift decision following the publication of the Davies Commission on airport expansion and regional airport connections, taking environmental as well as economic considerations into account.          
3 Help tourists get around Britain.  We will simplify fare structures to make rail travel cheaper and easier for tourists to understand, and take action on our fragmented rail service to guarantee everybody gets the best fare. We will legislate to support cities which want local bus services with frequent services and simple fares, integrated with other transport services. 
4 Support small businesses which make up 80 per cent of tourism-related business. WE will cut the business rate bills on 1.5 million business properties to help small firms and put in place a proper British Investment Bank supported by a network of local banks to improve lending to small firms.
5 Work with the industry to build on its employment offer for young people, promoting gold-standard vocational qualifications, ensuring as many school-leavers go on to apprenticeships as go to university apprenticeships and working with sector bodies and People First to ensure young people have the skills the industry needs.
6 Encourage regeneration and promotion of seaside towns and rural areas, working with local authorities, Combined Authorities and LEPs.
7 Recognise the key role of heritage, arts and culture in British domestic tourism and in bringing tourists to Britain.
8 Promote local tourism links by encouraging partnerships between urban and surrounding rural communities across the country, working with local authorities, Combined Authorities and LEPs.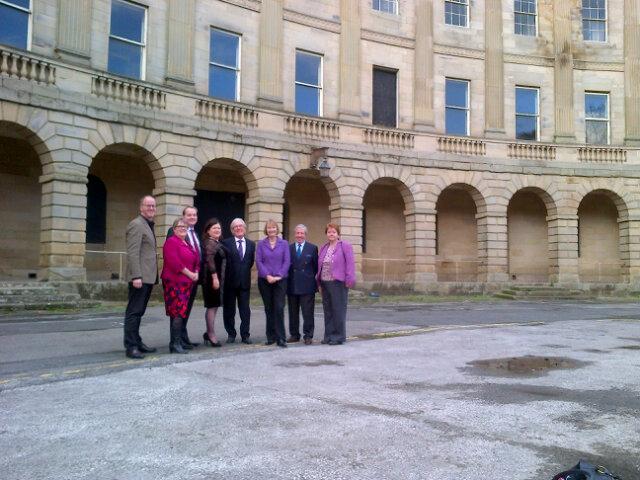 Speaking in Buxton, Harriet Harman, Labour's Shadow Secretary of State for Culture, Media and Sport, said: "Tourism is an economic powerhouse for Britain.  But for too long tourism has not been given the recognition it deserves. This Tory-led Government's approach has been patchy. Ministers have failed to take a properly joined-up approach.
"The Government has a responsibility to identify and support growth and to rebalance the Economy.  It's not about identifying individual companies – picking winners – but it is about picking winning sectors.
"We will ensure better coordination to make the most of the opportunities that tourism brings, for local economies, for jobs and skills and for our heritage.  We will support tourists from the point that they decide to travel here, through to making the most of their visit.
"Heritage sites, beautiful seaside and countryside and visitor attractions are spread throughout the country, and so many localities need the regeneration that tourism can bring."
The plan states that a Labour Government will:
Give the tourism industry the recognition it deserves.  We will work with the sector to promote the whole of the UK as a tourist destination for British people and visitors from abroad. 
Listen to the industry - we will hold regular meetings with a tourism-led sector council and work across Government to support them to develop an industrial strategy to create jobs and growth, and work on the issues that matter to tourism, including in Europe. 
Labour councils are already working closely with the tourism industry to improve local marketing, destination management, regulation and transport.  We will encourage and work with Combined Authorities and LEPs to give proper recognition to the potential for tourism in their devolved growth strategies, and support coordination with tourism stakeholders.
Caitlin Bisknell said: "Tourism is vitally important to the economy of Buxton and whole of High Peak.  In Buxton we have invested £70m in heritage led regeneration projects, which we estimate brings in around £60m visitor spend every year - money that benefits local people, businesses and services.
"Labour's cross-government plan recognises that we need to invest in tourism as an industry, acknowledging the key role it  plays in our economy and that means investing in road and rail links, and high quality training."